If you or a loved one have been diagnosed with a terminal illness, the news can be devastating for the entire family. You may feel overwhelmed with managing worsening symptoms, navigating the logistics of a treatment plan, and the emotional toll of preparing to say goodbye.
You've likely heard words like "comfort care" and "hospice care," but you may not be clear on what they are and exactly how they can help. Here, we shed more light on these specialized forms of care, as well as who is eligible to receive comfort care. We'll also give you some concrete examples of how it can help you and your family.
Are you or a loved one living with a chronic or terminal illness?
The Sage Family of Companies is here to help.
What Is Comfort Care?
Comfort care is a type of medical care that focuses on relieving pain and other symptoms to enhance the comfort of a person with a terminal illness. When treatment meant to cure a disease no longer works, a comfort care team can step in to ensure better quality of life as the end of life approaches.
You can receive comfort care in a hospital, at home, or in a hospice facility.
The Difference Between Comfort Care and Palliative Care
Comfort care and palliative care are similar in that they both concentrate on enhancing the quality of life of a person living with a chronic disease. However, palliative care is offered in conjunction with medical treatment intended to cure the illness. With comfort care, doctors stop administering curative treatment. The focus of care then transitions to alleviating pain and maximizing comfort during the dying process.
Palliative care is available at any stage of illness. It's often most helpful to start palliative care at the time of diagnosis. Comfort care is reserved for those who are preparing to transition out of life.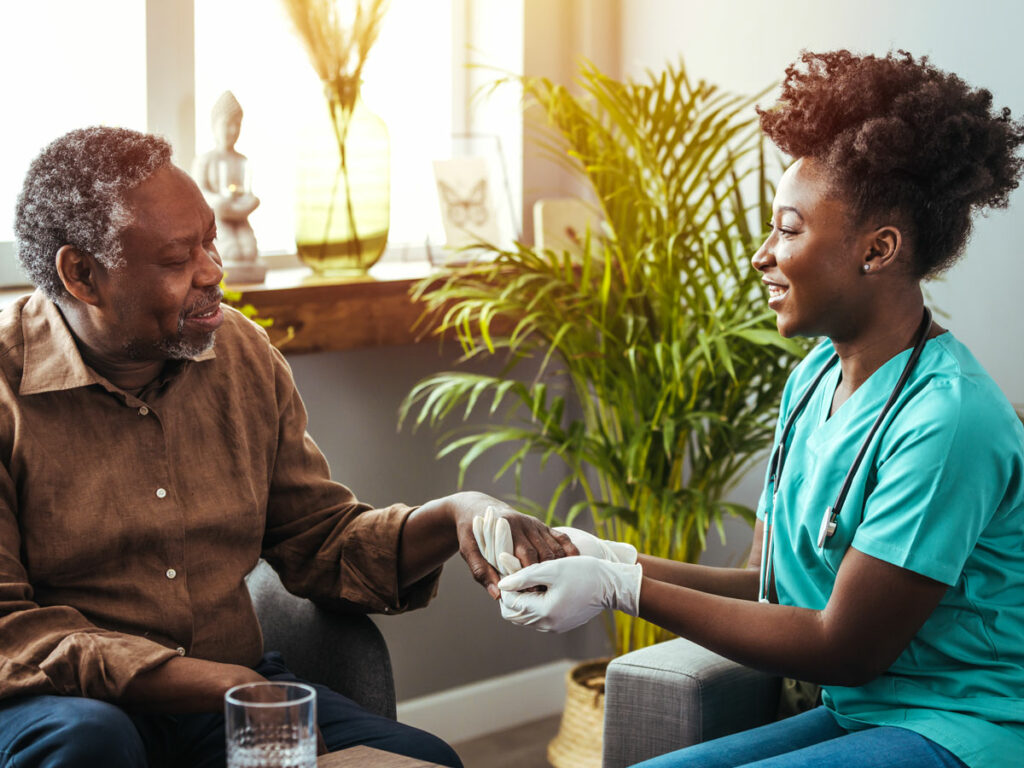 Is Comfort Care the Same as Hospice Care?
Comfort care is a major focus of hospice care, but hospice care encompasses many other types of care as well. Comfort care works to ease pain and improve quality of life at the end of life. Hospice care also includes medical treatments for symptom management, mental and emotional support, and, if desired, spiritual guidance.
Hospice and comfort care teams are interdisciplinary and may include:
Doctors
Nurses
Specialists
Home health aides
Social workers
Counselors
Dietitians
Spiritual or faith leaders
Volunteers
Hospice care also provides support for family members, including caregiving resources and grief counseling.
Who Is Comfort Care For?
Comfort care is for anyone living with a terminal disease who is approaching the end of life.
While any terminal condition qualifies for comfort care, some of the most common illnesses include:
Heart Disease
Lung disease
Amyotrophic Lateral Sclerosis (ALS)
How Comfort Care Helps People With Terminal Illnesses and Their Families
The goal of comfort care is to ease patient suffering in all forms, including physical, mental, and emotional pain, and to offer support to loved ones during the difficult time of the dying process. This can look different for each family, but there are some general services you can expect from comfort care.
Examples of how comfort care can help the patient include:
Providing medications to ease pain and discomfort
Offering treatments for other symptoms like nausea, digestive problems, skin irritation, and breathing troubles
Assisting with routine tasks that may become challenging or painful at the end of life, such as bathing, grooming, dressing, and using the bathroom
Stopping needle pricks, blood draws, and medications that don't aid in comfort
Monitoring room temperature and access to blankets to account for temperature sensitivities
Offering physical contact, such as hand holding or gentle massage to provide comfort
Playing gentle music at a low volume if desired, and providing a comforting environment
Assisting with breathing exercises to ease anxiety
In addition to the above comfort care, hospice care can also offer the following:
Home visits by the hospice physician, nurse, social worker, and home health aide
Mental health counseling to help cope with the difficult emotions that may arise as the end of life approaches
Medical equipment, such as walkers and wheelchairs, as well as medical supplies like bandages and catheters
Speech-language pathology services
Physical and occupational therapy
Dietary counseling
Spiritual guidance from chaplains, priests, or other spiritual advisers if desired
Short-term inpatient care when sufficient pain and symptom management can't be achieved at home
Comfort care can provide the following resources for family members:
Caregiving support
Respite care (temporary relief from caregiving to avoid or address caregiver burnout)
Bereavement counseling
Access to support groups
FAQs
Here are answers to some of the most frequently asked questions about comfort care.
How Long Can Comfort Care Be Provided?
The Medicare Hospice Benefit states that a person is eligible to receive hospice care if two doctors have determined that they have six months or less to live. If you live longer than six months, you can still receive hospice care, as long as your doctor recertifies that you're terminally ill.
How Long Does Someone Last on Comfort Care?
Comfort care is offered when a doctor estimates that you have six months left to live. Once in hospice care, you typically remain until the end of life. If your condition improves in hospice care, you may be discharged and go back to receiving curative treatment.
Can Comfort Care Be Reversed?
Yes, comfort care can be reversed at any time. If you no longer wish to receive comfort care, it's your right to decide you want to stop. To do so, simply tell your doctor you'd like to revoke your hospice care. You'll need to sign a form that states you want to revoke the care. Some patients choose to reverse hospice care if they wish to resume curative treatment.
Summary
A terminal illness impacts every member of the family. If you or a loved one are approaching the end of life, comfort care can help ensure your needs are met. It can also ease your pain as you prepare to transition out of life. Your care team will provide resources, such as bereavement counseling, for your loved ones throughout the whole process, including after death.
The Sage Family of Companies is here to answer any questions you may have.
Elevation Hospice
Colorado
Elevation Hospice
Colorado
Article Resources