Comfort Care Vs Hospice Care: Is There a Difference?
You may have heard the term "comfort care" from a care provider or a loved one. But what's the difference between comfort care and hospice care? Find out below.
Getting the news that a loved one has a terminal illness can be devastating. Grief, anger, frustration, and sadness are all common emotions to experience at this time. You may also feel overwhelmed with caregiving responsibilities as your loved one's symptoms worsen. You may struggle with having to say goodbye, and thinking about what your life will look like without them.
During this time, your loved one's doctor may mention "comfort care" and "hospice care," but you might not be sure what they actually mean, or how they can help your loved one. Read on to learn more about these specialized forms of care, who is eligible to receive hospice and comfort care, and the benefits they can bring to your whole family.
What Is Comfort Care?
Comfort care is a form of care that aims to alleviate pain and other symptoms, enhance comfort, and improve quality of life in people dying from a terminal illness. Doctors may suggest comfort care if your loved one has stopped responding to treatments meant to cure or stop their disease.
Comfort care can be made available in a hospital, at home, or in a hospice facility. The goal is to make your loved one as comfortable as possible during the final days, weeks, and months of life.
What Is Hospice Care?
Hospice care is a specialized type of care that focuses on the whole person as the end of life approaches. It's for people with a terminal illness whose doctor has determined they have six months or less to live. The goal of hospice care is to improve comfort and quality of life as death draws near.
Comfort Care vs Hospice Care: What's the Difference?
"Comfort care" and "hospice care" are often used interchangeably, but there's a difference. Comfort care is a part of hospice care that aims to make your loved one as comfortable as possible. Hospice care includes comfort care but also adds mental, emotional, and if desired, spiritual support.
Hospice and comfort care go hand-in-hand. Your loved one's care team may include:
Doctors
Nurses
Specialists
Social workers
Counselors
Home health aides
Dietitians
Spiritual or faith leaders
Volunteers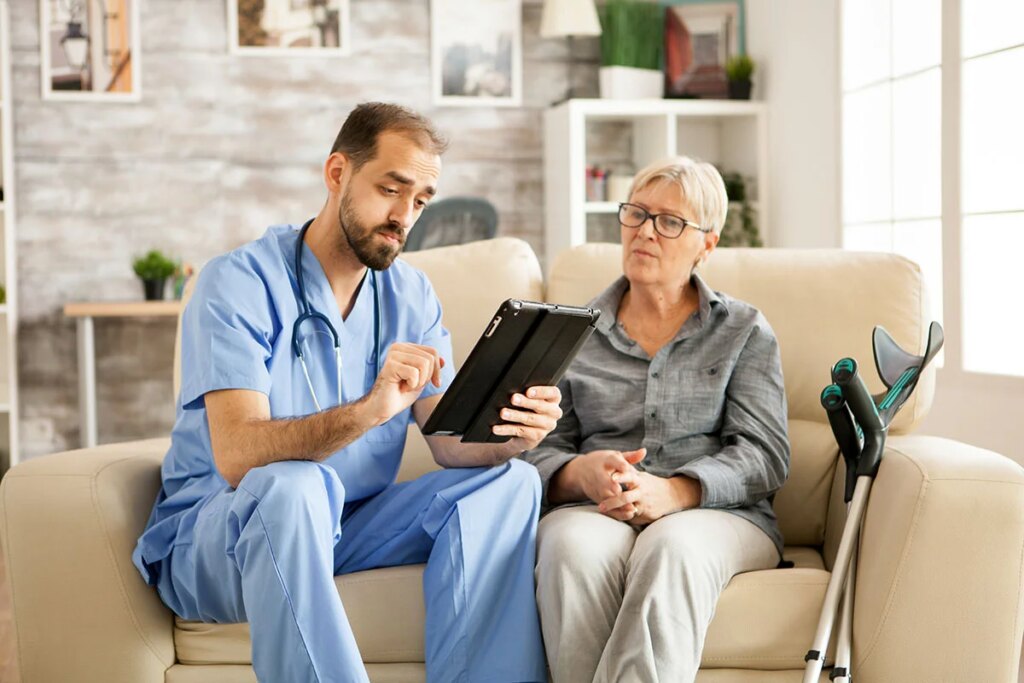 The Benefits of Comfort Care
Comfort care focuses on making your loved one as comfortable as possible as they approach the end of their life. This can look different for everyone, but treatment plans may include:
Medications to relieve pain and other symptoms like nausea, breathing problems, digestive issues, and skin irritation
Help with caregiving tasks, such as bathing, grooming, dressing, and using the bathroom
Stopping blood draws, needle pricks, and medications that don't provide comfort
Physical contact, such as gentle massage or hand-holding
Moderation of room temperature, lighting, and relaxing music to create a comfortable environment
Relaxation techniques or breathing exercises to help ease anxiety
In addition to comfort care, your loved one's hospice care team can also provide the following services:
Home visits by hospice physicians, nurses, social workers, and home health aides
Counseling to help your loved one cope with the mental challenges and process the difficult emotions they may experience as the end of life nears
Medical equipment and supplies, including wheelchairs, walkers, bandages, and catheters
Dietary guidance and counseling
Physical and occupational therapy
Speech-language pathology services
Spiritual guidance from faith leaders if desired
Short-term inpatient care when pain and symptom management needs can't be met at home
Just as family members are an important part of a loved one's life, they play a major role in hospice care as well. Services available for your family include:
Bereavement counseling
Respite care (temporary breaks from caregiving responsibilities to prevent or help with caregiver burnout)
Support groups so you can connect with others who are also coping with the death of a loved one
Who Is Eligible for Hospice Care?
If your doctor estimates that your loved one has six months or less to live if their disease takes its natural course, they will be eligible for hospice care.
Any terminal illness qualifies for comfort care, but some of the most common diseases treated with comfort care include:
Cancer
Heart disease
Dementia
Alzheimer's disease
Lung disease
Chronic Obstructive Pulmonary Disease (COPD)
Chronic kidney disease (CKD)
Amyotrophic Lateral Sclerosis (ALS)
Hospice Vs Palliative Care
Hospice care and palliative care often get confused, but they aren't the same. Hospice care is end-of-life care that focuses on the physical, mental, emotional, and spiritual health of a patient as they approach death from a terminal illness. Palliative care also provides care for the whole person. It aims to improve quality of life, but can be offered at any stage of an illness. 
When someone enrolls in hospice care, their doctors stop treatments meant to cure or stop the progression of their disease, as they prepare to help the patient transition to death. But with palliative care, curative treatment continues. People can stay on palliative care for weeks, months, or years. Many get better and no longer need palliative care. It's often encouraged to start palliative care at the time of diagnosis.
FAQ for Hospice vs Comfort Care
Here are some frequently asked questions about comfort care vs hospice care.
How Long Can a Patient Last on Comfort Care?
How long a patient lasts on comfort care varies from person to person. Hospice care is offered when a doctor estimates death will occur in the next six months if the disease takes its natural course. Once in hospice care, your loved one will remain until they transition out of life. If they live longer than six months, they can continue to receive hospice care if their doctor recertifies that they have a terminal illness.
Can You Come Out of Comfort Care?
It is possible to come out of comfort care. If your loved one's condition improves, they may leave hospice care and seek curative treatment. Your loved one may also decide to leave hospice care at any time for any reason.
Summary
Preparing to say goodbye to a loved one with a terminal illness can be one of the most difficult things a family faces. But knowing your loved one is as comfortable as possible during their final days, weeks, and months of life can help ease the burden on your whole family.
The Sage Family of Companies is here to answer any questions you may have.
Elevation Hospice
Colorado
Elevation Hospice
Colorado
Article Resources