The words "dementia" and "Alzheimer's" are often used interchangeably, but they actually mean different things. Dementia is a broad term for disorders that affect memory and thinking, while Alzheimer's is a specific brain disease and a certain type of dementia.
Whether your loved one has been diagnosed with Alzheimer's or another form of dementia, the toll it can take can be devastating. But there are plenty of resources available for caregivers to get the best care possible for their loved ones while also looking after their own mental health.
If you want to learn more about the differences between Alzheimer's and dementia, as well as the best ways to cope with these life-altering conditions, read on for symptoms, treatment options, and available resources for the whole family.
Are you or a loved one living with a chronic or terminal illness?
The Sage Family of Companies is here to help.
What Is Dementia?
Dementia is an umbrella term for disorders associated with cognitive decline that impacts memory, thinking, and reasoning. These impairments can become so severe that they greatly affect a person's ability to communicate and function in everyday life on their own. Several types of dementia exist.
Early signs of dementia include difficulty concentrating, trouble communicating your thoughts, and struggling to remember recent events.
What Is Alzheimer's Disease?
Alzheimer's disease is a type of dementia marked by memory loss. It's the most common form of dementia, accounting for 60 to 70 percent of all cases. Like other types of dementia, symptoms of Alzheimer's gradually worsen over time until those affected can no longer perform daily tasks on their own.
What's the Difference Between Dementia and Alzheimer's?
While you may hear dementia and Alzheimer's used interchangeably, they're different. Dementia is actually a group of conditions with similar symptoms of memory loss and cognitive impairment. These include Lewy body dementia, Parkinson's disease, vascular dementia, and frontotemporal dementia.
Alzheimer's disease is the most common form of dementia. It's caused by abnormal changes in the brain that affect memory and thinking.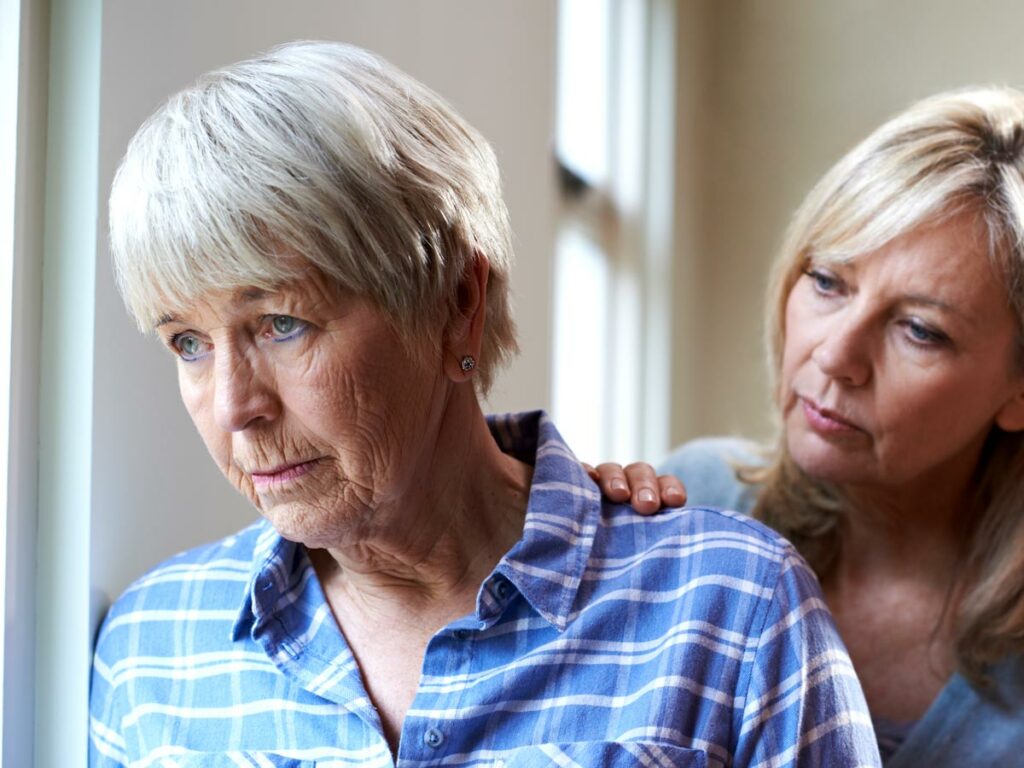 Dementia Versus Alzheimer's Disease Symptoms
Many of the symptoms of Alzheimer's disease and other forms of dementia overlap. These include:
Memory loss
Trouble with thinking, reasoning, and problem study
Difficulty with or the inability to communicate
Poor spatial awareness
Inability to perform complex tasks
Poor motor function
Impaired judgment
People with Alzheimer's disease may also experience:
Mood changes, including depression and anxiety
Confusion and disorientation
Agitation
Paranoia
People with other types of dementia may experience these symptoms in later stages of the disease, but other symptoms are typically more dominant when first diagnosed. For example, people with Parkinson's disease are more prone to involuntary movements in early stages, while those with Lewy body dementia often experience hallucinations and issues with balance.
How Are Alzheimer's and Other Dementias Treated?
There is currently no cure for Alzheimer's disease or the other forms of dementia, but there are treatment options that may slow the progression and can help manage symptoms. These include:
Medications to boost levels of chemical messengers responsible for functions like memory, learning, and judgment
Medications to help control symptoms like sleep disturbances, hallucinations, depression, and agitation
Occupational therapy that can help identify difficulties with daily function and tasks and help come up with solutions to modify your living environment, simplify tasks, and facilitate easier living
Other forms of dementia may require different or additional treatments. For example, treatment for vascular dementia will often focus on controlling underlying conditions that affect the heart, including blood pressure, cholesterol, blood sugar, and keeping your arteries clear.
What Are the Other Types of Dementia?
While the different forms of dementia share many of the same symptoms, there's some variation in what these disorders look like and what causes them. Here's a closer look at different forms of dementia.
Lewy Body Dementia
Lewy body dementia is the second most common form of dementia after Alzheimer's disease. It occurs when Lewy bodies, or protein deposits, build up in the nerves of the brain associated with memory, thinking, and motor control. If your loved one has Lewy body dementia, they may experience gradual cognitive decline, trouble with alertness, and visual hallucinations.
Parkinson's Disease
Parkinson's disease is a progressive neurodegenerative disorder that begins with tremors, (rhythmic shaking) of the limbs, hands, or fingers. Over time, the tremors become more apparent and more frequent. Other symptoms of Parkinson's can include rigid muscles, slowed movement, poor balance, loss of motor control, and difficulty with speech.
Frontotemporal Dementia
Frontotemporal dementia is a general term for a group of disorders that affect the frontal and temporal lobes of the brain, which are associated with language, behavior, and personality. Frontotemporal dementia can sometimes be confused with Alzheimer's disease, but it tends to occur at a younger age than Alzheimer's.
Vascular Dementia
Vascular dementia is a type of dementia that's caused by brain damage from a lack of blood flow to the brain. This may be the result of a stroke or other conditions that cause damage to blood vessels or reduced circulation. Risk factors for heart disease, such as high cholesterol, high blood pressure, and smoking can also raise the risk of vascular dementia. Controlling these risk factors can help prevent vascular dementia.
If your loved one has Alzheimer's disease or another form of dementia, you'll need to assist with various aspects of their life, including bathing, grooming, getting dressed, preparing meals, and medication management.
During earlier stages, allow your loved one to be as independent as safely possible. It can be helpful to write things down for them, including appointments, important dates, and to-do lists.
You'll also want to make sure your home is a safe environment for your loved one. That's because their judgment and spatial awareness will be impacted by the disease, making them more prone to accidents and falls.
Clear any clutter in your home and remove tripping hazards like throw rugs and extension cords from walking paths. Grab-bars and a sturdy chair in the shower can also make bathing safer. Be sure to have a list of emergency numbers on hand, such as the local emergency room and police and fire department.
Dementia Home Care
As dementia progresses to later stages, your loved one may have a harder time communicating and functioning in daily life. This often requires round-the-clock care to manage their condition. Caregiving at this time can be extremely challenging and you'll likely need some help to avoid burnout.
One option to consider is dementia home care. This service will provide assistance in the comfort of your own home. A home-care aide can help with basic daily living tasks, such as bathing, dressing, and light housework. They can also offer total bedside care.
You can use dementia home care for just a couple hours a day, or seek full 24-hour care.
Palliative Care
Another option to consider for Alzheimer's or other types of dementia is palliative care. This specialized form of care focuses on easing pain and other symptoms and enhancing the quality of life of those living with a chronic illness like dementia.
Services are available to support your loved one's physical, mental, emotional, and if desired, spiritual health. Palliative care is available at any stage of the disease, and it doesn't mean your loved one is preparing for death. On the contrary, medications and treatments meant to stop dementia from progressing are still very much a part of palliative care.
Hospice Care
When your loved one has reached the final stages of dementia, and it's clear the end of life is approaching, hospice care is available to help the whole family cope. This is a specialized type of care that aims to provide comfort and improve the quality of life of those dying of a terminal illness. Hospice care can be provided at home or in a hospice center.
FAQs
Here are answers to some of the most frequently asked questions about the differences between Alzheimer's and dementia.
What is the Life Expectancy for a Person With Dementia?
The life expectancy of someone with dementia varies from person to person. On average, people aged 65 and older with Alzheimer's live for four to eight years after diagnosis. Some go on to live for another 20 years.
Can You Have Dementia and Not Get Alzheimer's?
Alzheimer's disease is one type of dementia, a general term for a group of disorders characterized by memory loss and cognitive decline. As such, every case of Alzheimer's is a form of dementia, but having dementia doesn't mean you have Alzheimer's.
Summary
Caregiving for a loved one with Alzheimer's disease or another form of dementia comes with many challenges that can sometimes feel like too much to bear. There are a number of options that can help, including dementia home care, palliative care, and hospice care.
The Sage Family of Companies is here to answer any questions you may have.
Elevation Hospice
Colorado
Elevation Hospice
Colorado
Article Resources