When Should Someone Be Offered Palliative Care?
When you or a loved one has been diagnosed with a chronic illness, you face some difficult challenges. From managing medications and other treatments to handling daily tasks and family responsibilities that may now be difficult, everything has changed. You may feel more mental and emotional strain than you've ever known.
Fortunately, there's help for you and your loved ones. If you've recently been diagnosed with a serious disease or you're feeling overwhelmed, it may be time to consider palliative care. Read on to learn more about what palliative care is, who qualifies for palliative care, and how to decide if it's right for you or your loved one.
When Should Someone Be Offered Palliative Care?
Someone should be offered palliative care when they're living with a serious illness such as cancer, heart disease, or dementia. Palliative care can help at any stage of a disease or illness. Though often offered at the time of diagnosis, anyone can receive palliative care, even if they're not near end-of-life.
Palliative medicine can be especially helpful if you're having trouble managing your illness and your symptoms. If you're finding it difficult to keep up with your medications, or routine tasks have become a challenge, you may be a good candidate for palliative care. If your loved ones are feeling overwhelmed or burnt out from caretaking, palliative care can offer support.
What to Expect from Palliative Care
The goal of palliative care is to improve the lives of patients and their families. It's a specialized form of treatment that focuses on the whole person, from physical to mental to emotional health.
Pain and symptom management are important parts of palliative care.
Disease treatment. You won't have to forgo treatment meant to stop or cure your disease when receiving palliative care. Rather, these treatments are given in conjunction with other forms of care.
Quality of life. Your palliative care team will work with your doctors to enhance your current care by focusing on improving your quality of life.
Emotional help. Palliative care specialists can also provide resources to help you cope with the mental, emotional, and social stresses of having a life-limiting disease.
Professional assistance. You can get help with practical issues as part of your care plan, including support for legal, financial, and employment questions or concerns.
Help for family members. Family members are a part of palliative care too and can get assistance with caretaking responsibilities and support for their own mental health.
Palliative care at home can be arranged, as well as care in nursing homes, hospitals, or other healthcare facilities.
Spiritual guidance can be part of your palliative care plan if you choose.
Learn more in our article on The 5 Stages of Palliative Care.
What's the Difference Between Palliative Care, Hospice Care, and End-of-Life Care?
Though the terms often get confused, palliative care isn't the same as end-of-life care or hospice care. You can receive palliative care at any stage of your illness, and being on palliative care doesn't mean your doctors stop trying to cure your condition. Conversely, end-of-life care stops your treatment.
People can remain under palliative care for weeks, months, or even years. Some get better and no longer need palliative care.
End-of-life Care and Hospice Care
End-of-life care comes in the last stage of illness when death is inevitable. The goal of end-of-life care is to ensure comfort during your final days and to provide emotional support for you and your loved ones.
During both hospice care and end-of-life care, treatments meant to stop your disease are halted. Hospice care is for people who have an incurable illness and are approaching the end of life. During this time, the illness is either no longer responding to treatment or the patient decides to stop it. You can receive hospice care at home or at a hospice facility.
Palliative Care Before Hospice
Palliative care can help make your transition to hospice and end-of-life care easier by emotionally preparing you and your loved ones for what's to come, including physical changes that occur when end of life is near, as well as the emotional and spiritual aspects of this difficult time.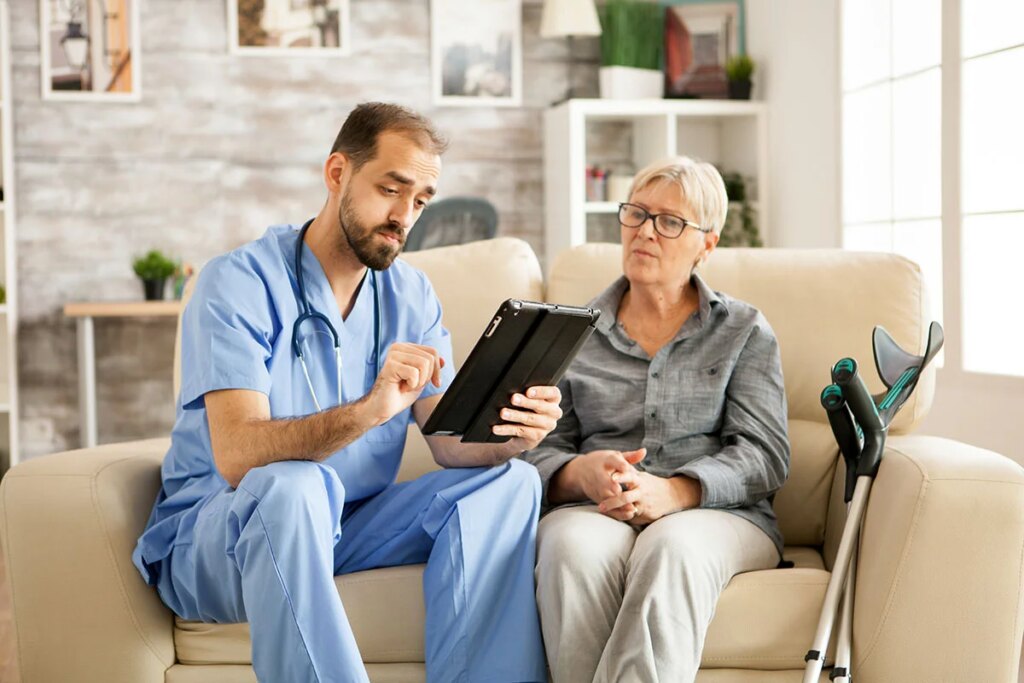 Who is Palliative Care For?
Palliative care is for people with chronic illnesses who need extra support to improve their physical, mental, emotional, and social health. You can receive palliative care at any age and at any stage of illness.
Diseases that can be treated with palliative care include:
Cancer
Alzheimer's disease or other forms of dementia
Heart disease
Chronic obstructive pulmonary disease (COPD)
Parkinson's disease
Multiple sclerosis
Kidney failure
Liver disease
Lung disease
Cystic fibrosis
Amyotrophic lateral sclerosis (ALS)
How to Decide When Palliative Care is Appropriate
Anyone who has a chronic illness should consider palliative care. It's often offered shortly after diagnosis, but anyone at any stage of disease can receive palliative care.
If you're having difficulty managing the pain and other symptoms associated with your illness, palliative care may be appropriate.
Palliative care can help with:
Pain
Nausea
Vomiting
Anxiety
Depression
Fatigue
Sleep troubles
Breathing difficulties
Digestive issues
Palliative care can also be helpful for anyone with a serious illness who's struggling mentally or emotionally, or whose loved ones are overwhelmed with their caretaking responsibilities. Palliative care focuses on comprehensive care of the whole person and can help enhance quality of life for you and your family.
Who Makes Up a Palliative Care Team?
The members of any one palliative care team will vary based on individual need. Generally, a palliative care team may include:
Doctors and specialists
Nurses
Social workers
Physical therapists
Occupational and speech therapists
Psychologists/counselors
Dietitians and nutritionists
Trained volunteers
Spiritual advisors
Common Misconceptions About Palliative Care
One of the biggest misconceptions about palliative care is that it means the patient is close to dying. A 2020 survey of more than 3,500 Americans found that just 13 percent of participants reported knowing what palliative care is and held no misconceptions about this type of care.
Twenty-nine percent of those surveyed said they knew what palliative care is, but when pressed on the topic held one or more of the following misconceptions:
Palliative care is automatically linked to death — false. Patients can exit palliative care and return to normal life.
Palliative care is the same as hospice care — false. Hospice care is for end-of-life, and palliative care provides comfort for those with chronic or terminal conditions who may live for many years.
You must stop other treatments when receiving palliative care — false. You can continue treatment during palliative care.
Palliative care means giving up — false. Palliative care is there to help you and your loved ones cope with physical and emotional pain.
Your palliative care team will be able to clear up any questions or concerns you have about palliative medicine.
Frequently Asked Questions
Here are answers to some of the most frequently asked questions about when someone should be offered palliative care.
How is Palliative Care Different From End-of-Life Care?
Palliative care is a form of specialized care you can receive at any stage of a serious illness. With palliative care, you receive treatment that focuses on enhancing quality of life in conjunction with the treatment you are already getting.
End-of-life care focuses on comfort during your final days. At this time, curative treatment is stopped.
Which Diseases Are the Most in Need of Palliative Care?
Anyone with a serious illness can benefit from palliative care. Some of the illnesses most commonly treated with palliative care include cancer, heart disease, dementia, chronic respiratory diseases, and kidney failure.
Summary
If you or a loved one has a serious illness like heart disease, cancer, or dementia, palliative treatment can provide support. If you have any questions about palliative care, the Sage Family of Companies can help. Our excellent Palliative Care Coordinators are standing by and are ready to assist you today. You can start the process to begin receiving palliative care simply by filling out this form or by calling one of our Palliative Care Coordinators at (480) 787-0251. We look forward to serving you.
The Sage Family of Companies is here to answer any questions you may have.
Elevation Hospice
Colorado
Elevation Hospice
Colorado
Article Resources