If you've recently been diagnosed with multiple myeloma, there's a lot of information to take in. Learning about the different treatment options, what life may look like with cancer, and how your illness will affect you and your loved ones can be overwhelming.
As with any cancer diagnosis, knowing what to expect can be an important part of helping you and your family cope. Read on to learn more about how multiple myeloma can affect your body, how it's treated, what ultimately causes death, and how palliative and hospice care can provide support for you and your loved ones during this difficult time.
Are you or a loved one living with a chronic or terminal illness?
The Sage Family of Companies is here to help.
What Is Multiple Myeloma?
Multiple myeloma is a rare blood cancer that begins in plasma cells, special white blood cells that fight infections in the body. When multiple myeloma occurs, healthy plasma cells turn into abnormal cells that multiply and overgrow. These abnormal cells can collect in the bones and bone marrow.
What Is the Main Cause of Death with Multiple Myeloma?
Often, the complications that come with multiple myeloma are the cause of death. Since multiple myeloma attacks healthy cells, some of the body's systems and organs can break down over time and no longer function. Many people with multiple myeloma die from infections or kidney failure.
Other times, death comes from disease progression with no further specific cause.
What Are the Final Stages of Multiple Myeloma?
The final stages of multiple myeloma can look different for everyone. As multiple myeloma progresses to end stages, you'll likely experience severe bone pain and extreme fatigue. Other common symptoms include loss of appetite, breathing problems, and unusual bleeding, such as frequent nose bleeds or bleeding gums.
Signs That Death Is Near
There can be a few different causes of death from multiple myeloma, so symptoms at the end may look different for each person.
For example, people dying from kidney failure often feel itchy from the buildup of toxins in their blood. By contrast, a fatal sepsis infection can cause a high fever, confusion, slurred speech, and loss of consciousness.
In general, signs that death is fast approaching include:
An irregular pulse
A drop in body temperature and blood pressure
Irregular breathing
Mottled skin that's purple or blue in color
Multiple Myeloma Diagnosis: How this Cancer Affects the Body
With multiple myeloma, cancerous cells invade the bone marrow and crowd out healthy cells. Instead of producing useful antibodies, these harmful cells create abnormal proteins which can lead to a number of complications throughout the body.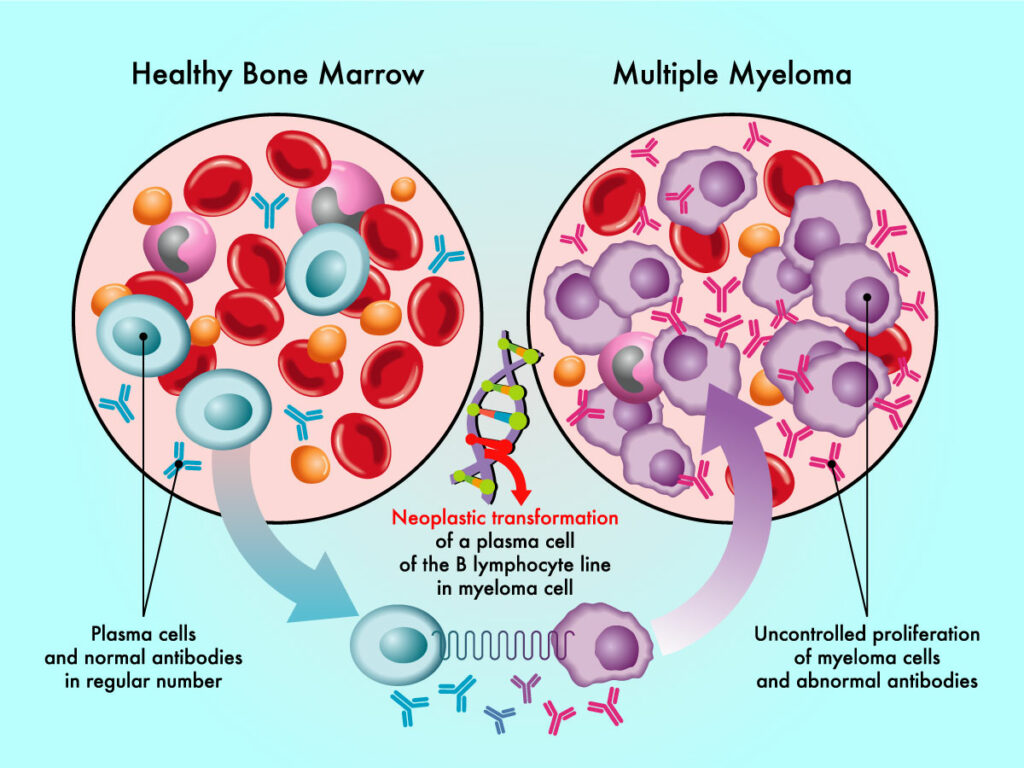 Frequent Infections
Since multiple myeloma attacks your body's white blood cells, it can inhibit your ability to fight off infections. According to research, people with multiple myeloma have a 7-fold increased risk of developing bacterial infections and a 10-fold increased risk for viral infections compared to healthy people. Common infections with multiple myeloma include pneumonia and sepsis. These are serious and can become fatal.
Bone Pain and Fractures
When abnormal plasma cells invade and destroy your body's bone tissue, it can lead to bone thinning and soft spots in your bones. This can cause bone pain and increase the risk of fractures.
Anemia and Other Blood Problems
Multiple myeloma can lead to anemia, a condition where there aren't enough healthy red blood cells to provide oxygen to your tissues. This occurs because cancerous plasma cells don't leave room for new red blood cells to grow. Symptoms of anemia include shortness of breath, fatigue, irregular heartbeat, dizziness, and pale or yellow skin. If left untreated, anemia can lead to heart issues, including heart failure.
Multiple myeloma can also cause thrombocytopenia, a condition that decreases the number of platelets in the blood, causing an increased risk of bleeding or bruising.
Kidney Issues
Cancerous plasma cells from multiple myeloma create a protein that can block the kidneys' normal filtration process that removes waste from the body. This can lead to kidney damage and ultimately kidney failure.
How Fast Does Multiple Myeloma Progress?
The speed of multiple myeloma's progression depends on the severity of the disease.
If you don't have symptoms — a condition known as smoldering myeloma — it can take years before your illness progresses to multiple myeloma.
Smoldering multiple myeloma transitions to multiple myeloma at a rate of about:
10 percent per year within the first five years of diagnosis
3 percent per year over the next five  years
1.5 percent per year after that
While there's no cure for multiple myeloma, it's possible to enter remission with current treatments, and this can sometimes last for years. However, other cases may progress quickly and lead to death from the disease or complications from the cancer.
Symptoms of Multiple Myeloma
The symptoms of multiple myeloma can vary from person to person. Some people may not have any symptoms at all, especially in the earlier stages of the disease.
Common signs of multiple myeloma can include:
Bone pain, particularly in the chest and spinal cord
Weakness or numbness in the arms and legs
Loss of appetite
Nausea and vomiting
Unexplained weight loss
Excessive thirst
Constipation
Fatigue
Confusion or brain fog
Multiple Myeloma Treatments
If multiple myeloma is in its early stages and you don't have any symptoms, you likely won't need treatment right away. This is known as smoldering myeloma and progression is often slow. Your doctor may take a "wait and see" approach, monitoring you regularly to check for progression.
When the time comes for intervention, multiple myeloma treatments include:
Targeted drug treatments that kill cancer cells by targeting specific weaknesses in the cells
Corticosteroids that can kill cancer cells and reduce inflammation when given in high doses
Immunotherapy drugs that are designed to stimulate your immune system to fight cancer cells
Chemotherapy, another powerful class of drugs that kill cancer cells
Radiation therapy that uses high-power energy beams to destroy cancer cells
Bone marrow transplant, also known as a stem cell transplant, which replaces damaged bone marrow with healthy marrow and improves survival rate
You may receive other medications to treat common complications of multiple myeloma, such as antibiotics for infections, pain medications, or dialysis for kidney damage.
Is Multiple Myeloma Curable?
There is no cure for multiple myeloma, but it's possible to control the disease with current treatments for prolonged periods of time. This often leads to years-long remission. However, multiple myeloma usually returns and after time, treatment may no longer be effective.
This can be an extremely emotional time and may be difficult to process. When treatment is no longer working, it's time for you and your family to prepare for what's to come.
How Long Can You Live With Multiple Myeloma?
According to the American Cancer Society, the five-year survival rate for multiple myeloma is 57 percent. In other words, 57 percent of all people with the disease will still be alive five years after diagnosis.
It's important to keep in mind that survival rates are estimates that take into account a large number of previous outcomes. There's no way to determine your individual situation as multiple myeloma can affect people very differently. Your age and overall health may also play a role, as younger and generally healthy people tend to live longer with multiple myeloma.
Are you or a loved one living with a chronic or terminal illness?
The Sage Family of Companies is here to help.
Palliative and Hospice Care for Multiple Myeloma
If you or a loved one are living with multiple myeloma, you may want to consider palliative care. This is a specialized type of care for people living with chronic illnesses that focuses on care of the whole person. The goal is to provide relief from pain and other symptoms, while at the same time focusing on improving quality of life.
Palliative Care
With palliative care, you'll continue to receive medical treatment for multiple myeloma. But you'll also receive additional care focused on comfort, as well as your mental, emotional, and if desired, spiritual health.
Hospice Care
The time may come when medical treatment no longer works, or the complications from multiple myeloma become too severe to manage. If that happens, hospice care can step in. This form of care focuses on managing symptoms and enhancing comfort at the end of your life.
During hospice care, doctors stop treatments intended to cure your cancer. Care teams understand how emotional this time can be. They'll provide support for you and your loved ones as they prepare you to transition out of life. You can receive hospice care at home or at a hospice facility.
Summary
Getting a cancer diagnosis can be devastating, but it's possible to successfully manage multiple myeloma for years. Palliative care can help ensure your comfort and improve your quality of life while you're receiving medical treatment. Should multiple myeloma become terminal, your hospice care team will be there to support you and your family through the transition from life.
The Sage Family of Companies is here to answer any questions you may have.
Elevation Hospice
Colorado
Elevation Hospice
Colorado
Article Resources